Why use Multi-Factor Authentication (MFA)?
Your security is our priority. As part of Frontline Education's continuing efforts to protect sensitive data, we are enabling multi-factor authentication (MFA) with your Frontline Passport. Frontline Education services are committed to use rigorous, industry-accepted security, privacy, and reliability standards such as MFA to ensure your information is secure.
In a world where security related breaches through stolen and weak passwords are a constant threat, an MFA solution is critical to ensure you are who you say you are.
What is MFA?
MFA is an added layer of security used to verify your identity when you sign into an application. To increase security, your account requires an additional contact method to verify it's you.

Logging into Frontline Passport with MFA
On the Frontline Passport login page, enter your email and password and click Sign In with Frontline Passport. *Note that Frontline Passport is different from a Frontline ID.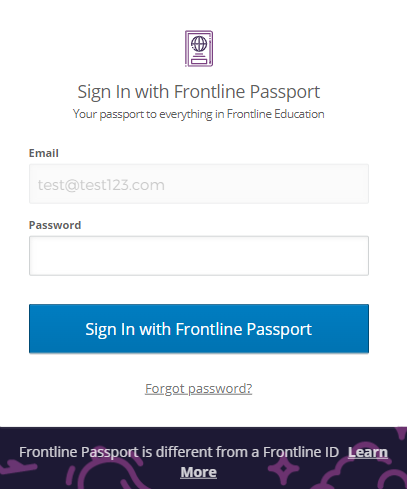 You will then be prompted to set up MFA for your account. You may use a mobile phone or the email address associated with your account. Click Setup under your preferred option.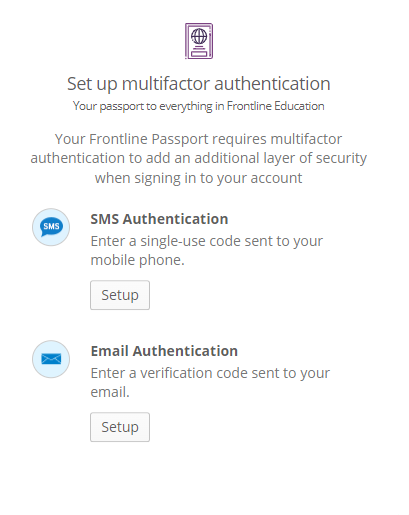 For mobile phones, you will be prompted to enter your phone number. Once entered, click Send Code.
You will receive a text message on your mobile phone with the one-time code. Enter the code in the text box and click Verify to access your account.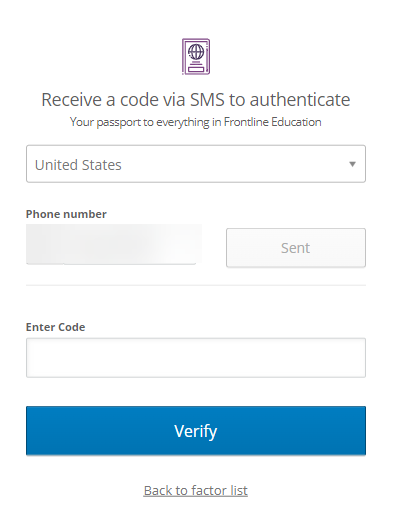 ---
Note
If you do not enter the code when prompted, the screen will display the following message: "Haven't received an email? Send again." Click Send again if you need to receive another code.

---
If you choose email verification, you will receive a code via your registered email. Click Send me the code.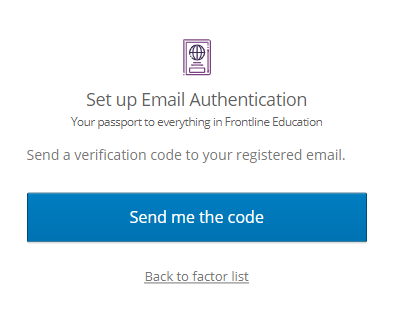 You may also click Back to factor list if you prefer to receive a text message.
You will receive an email with the one-time code. Enter the code in the text box and click Verify.