This article describes how to manage your Frontline Passport account. These settings are accessed via the dropdown beside your name (in the top purple bar of an application). Click the dropdown and select Account Settings.

The system organizes your Passport account details into three sections: Profile, Frontline Passport, and Security (MFA). Click each tab below to learn more about each option.
Profile
The "Profile" section displays your basic information. This includes first, middle, and last name. Make any necessary adjustments and click Save Profile to record the updates.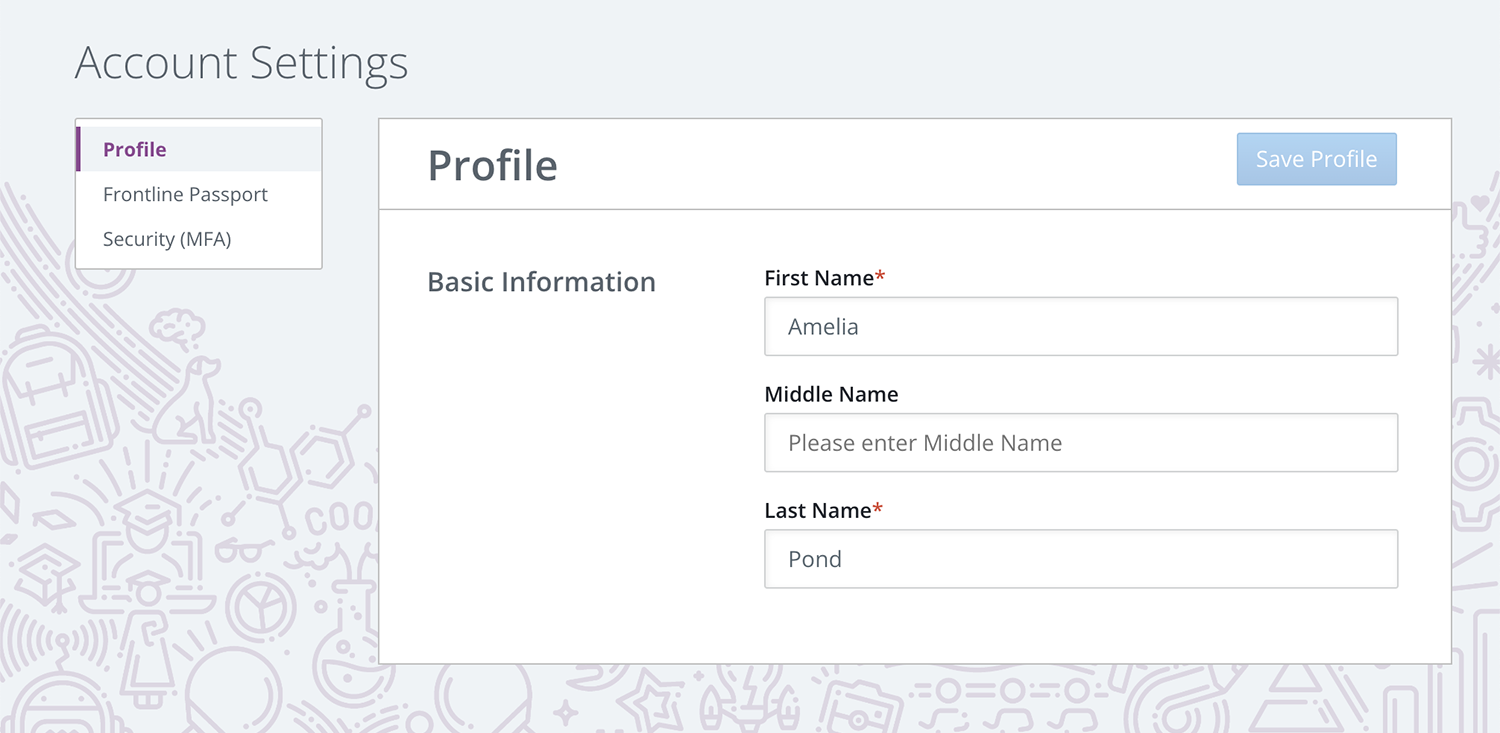 Go to Frontline Passport Tab
Frontline Passport
The "Frontline Passport" section includes your email/username, recovery email, and password.
Email/Username
This area displays the current email being used as the username for your Frontline Passport account.  Enter a new email/username, if needed, in the text box.
You can also click the "Merge Them" link if you have accidentally created more than one Frontline Passport account. You only need one username/password to access your Frontline products, so the merge tool is available to combine any instances where more than one account exists.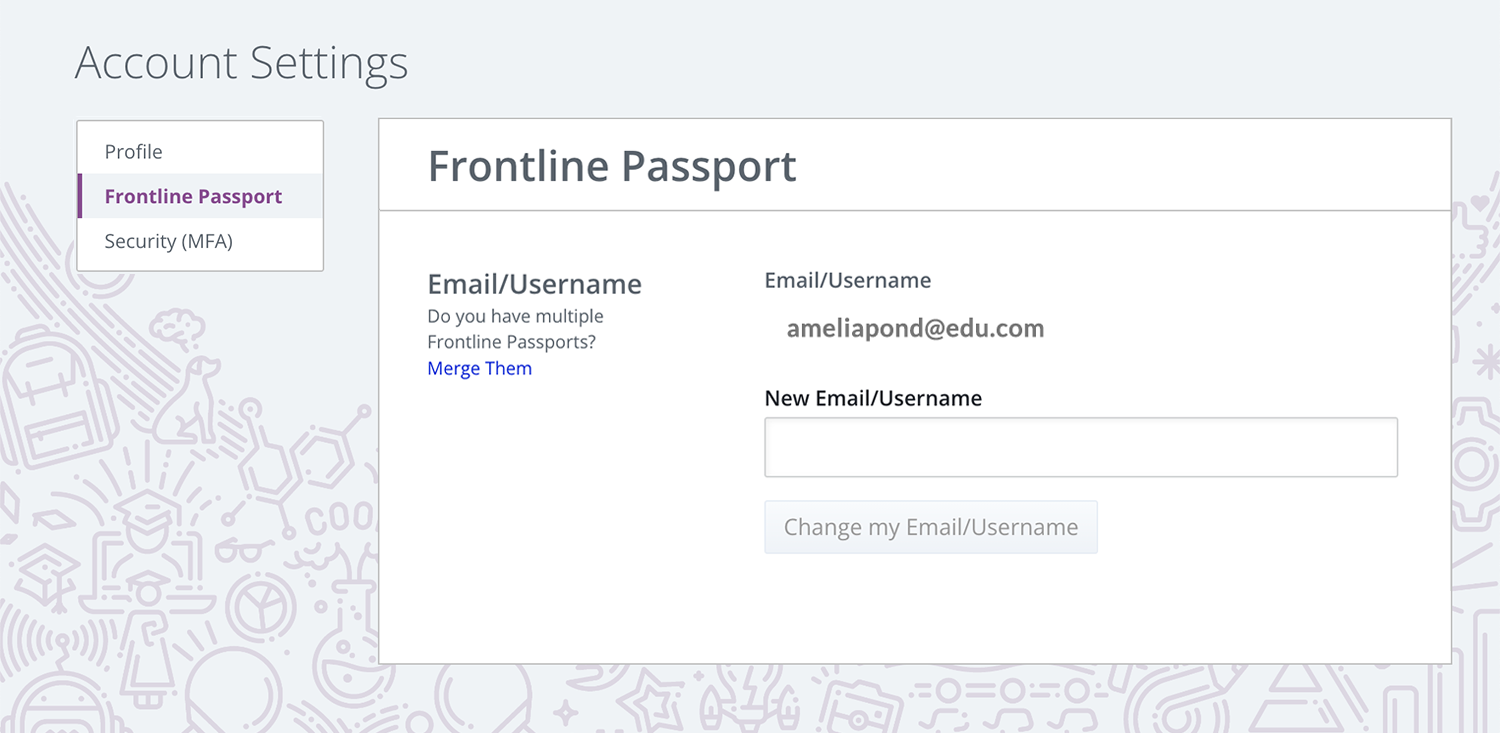 When selected, enter the username/password for the account you want to merge/remove and click Verify & Continue. This action merges that secondary account (and the application(s) associated with that account) into your single Passport account.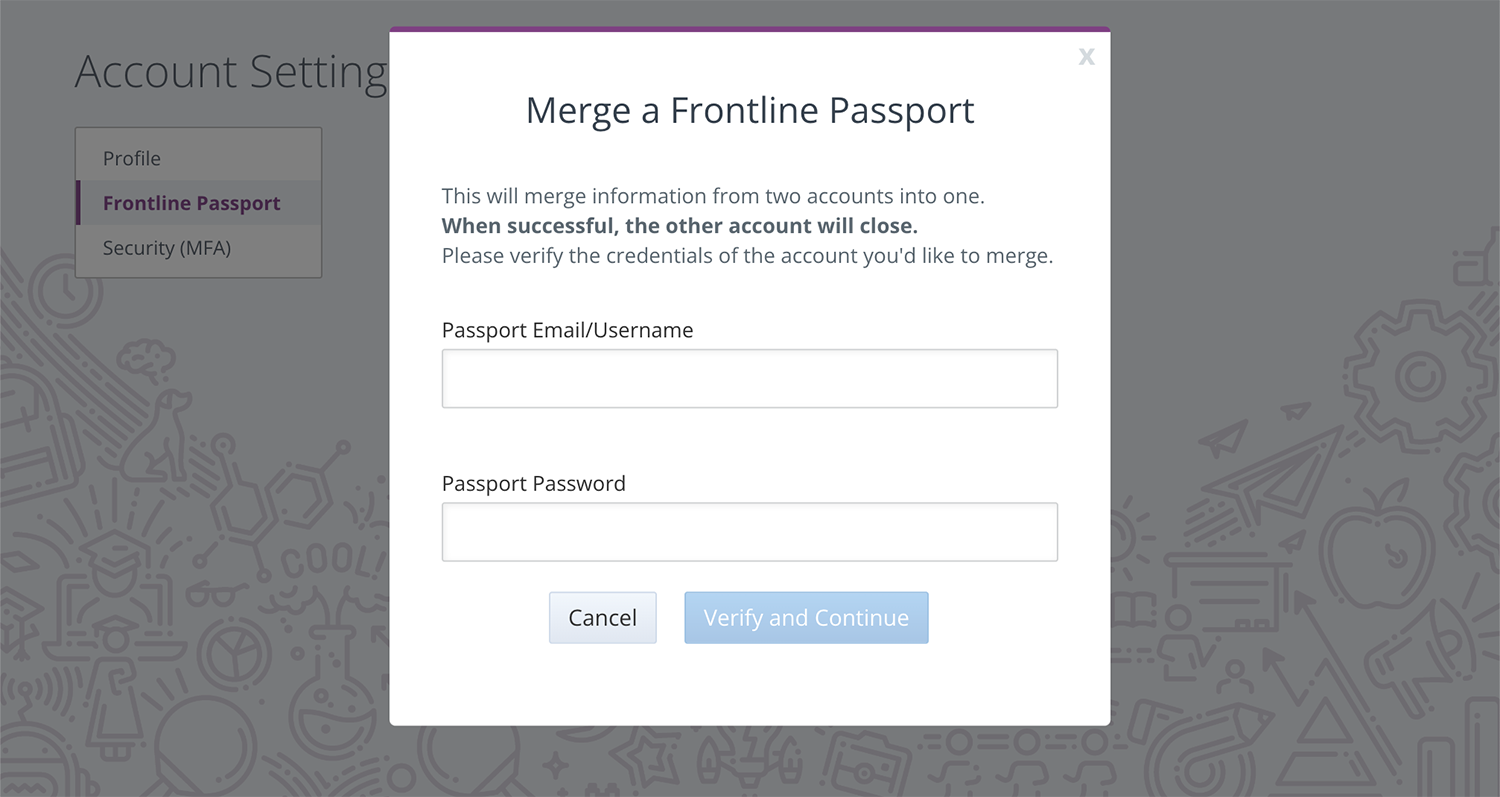 Recovery Email
This area displays the recovery email used by the system to provide password resets. It is strongly recommended that you provide a personal email address to ensure access for password recovery purposes.
If not yet set up, enter an email address and click Save New Recovery Email.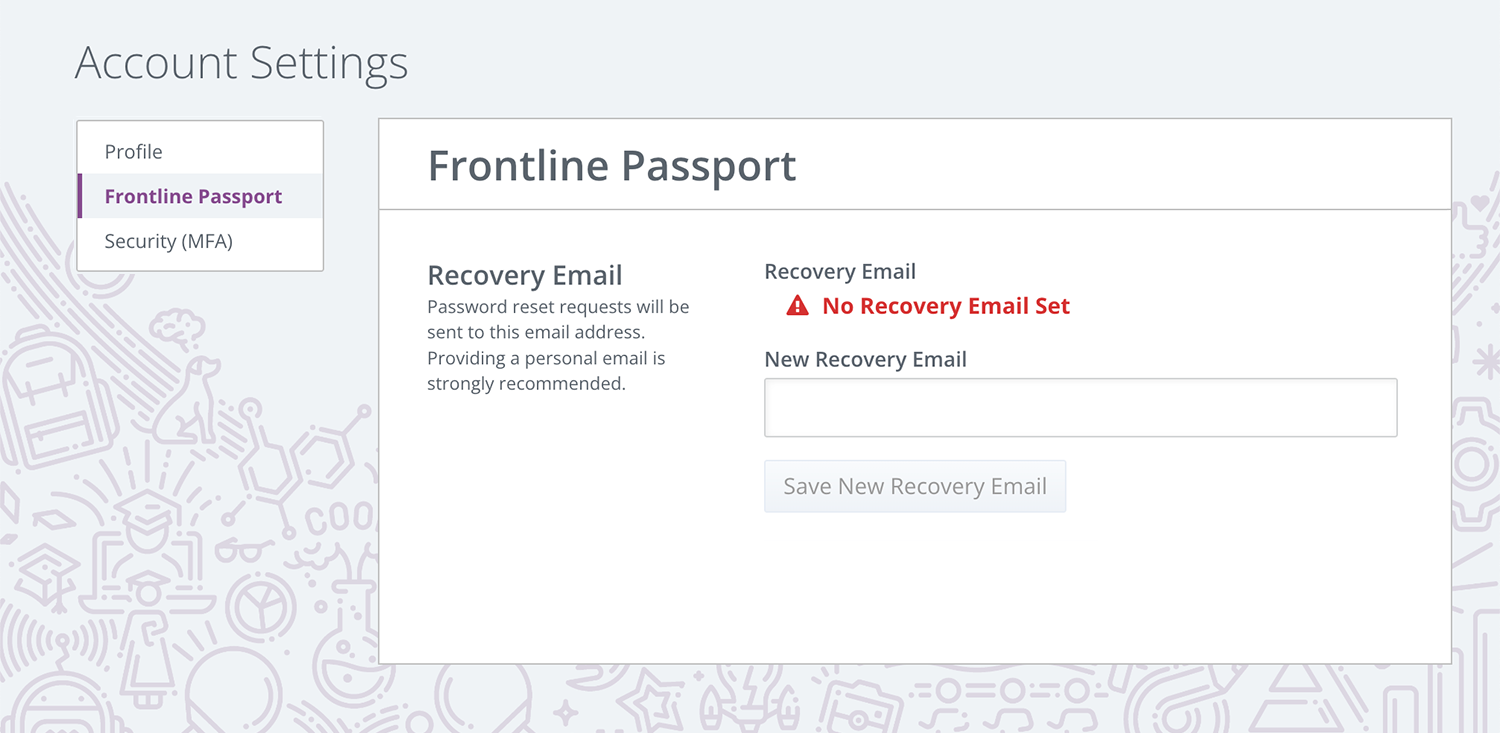 The system will send a verification email to that inbox. Open the email and select Confirm Recovery Email to verify it in the system.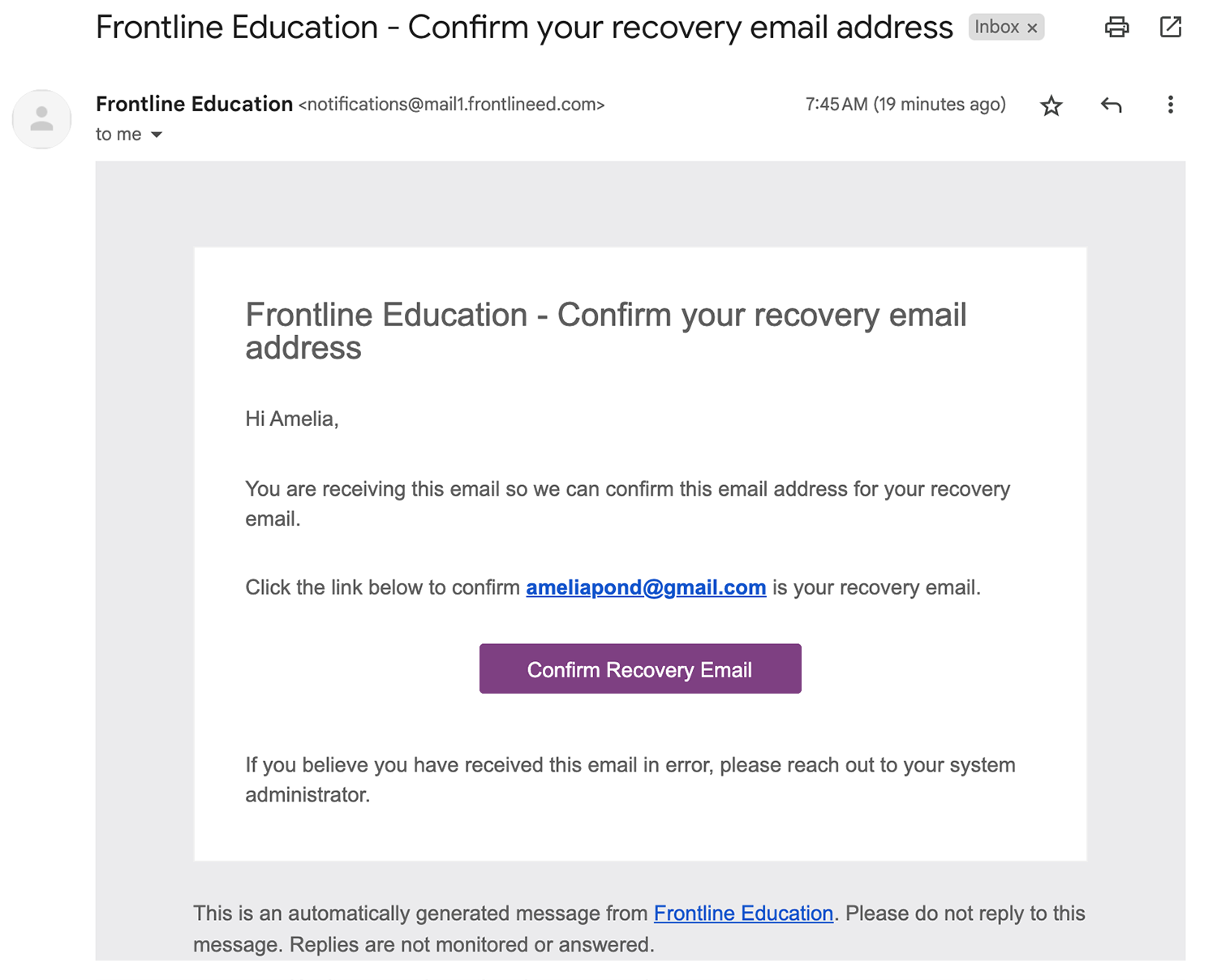 The system will list the verified recovery email and provide a prompt to delete or enter an alternate recovery email, as needed.

Password
This area provides a prompt to update the password affiliated with your Passport account. Enter the current password, followed by the new password, and then confirm the new password. Once finished, click Update to save your changes.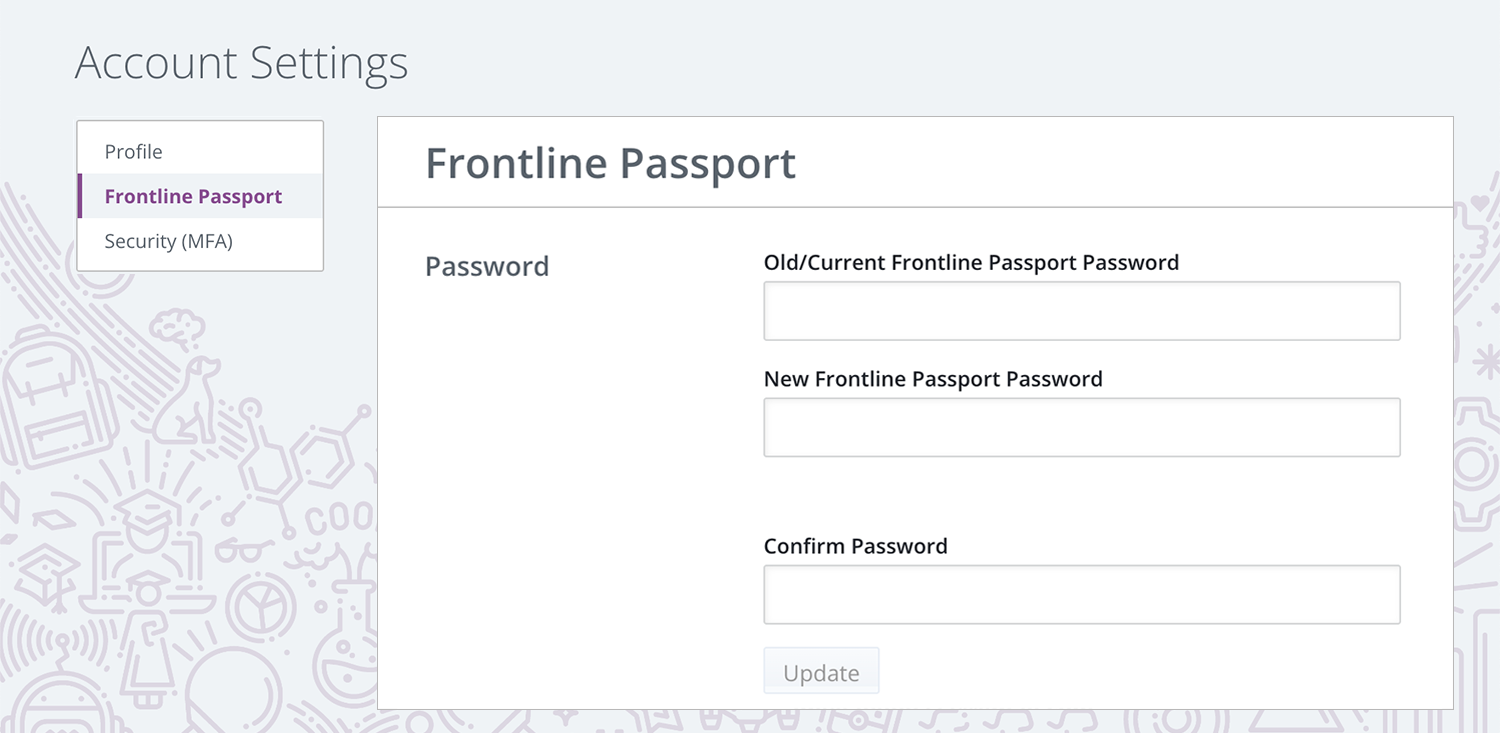 Go to Security (MFA)
Security (MFA)
After your first Passport sign in, you will be prompted to set up multifactor authentication (MFA). Your new Frontline Passport requires this one-time MFA setup for security and password reset purposes.
The "Security (MFA)" section displays the current MFA options in use (e.g., email or text) with an "ACTIVE" status indicator and includes the option to add or remove options, if needed.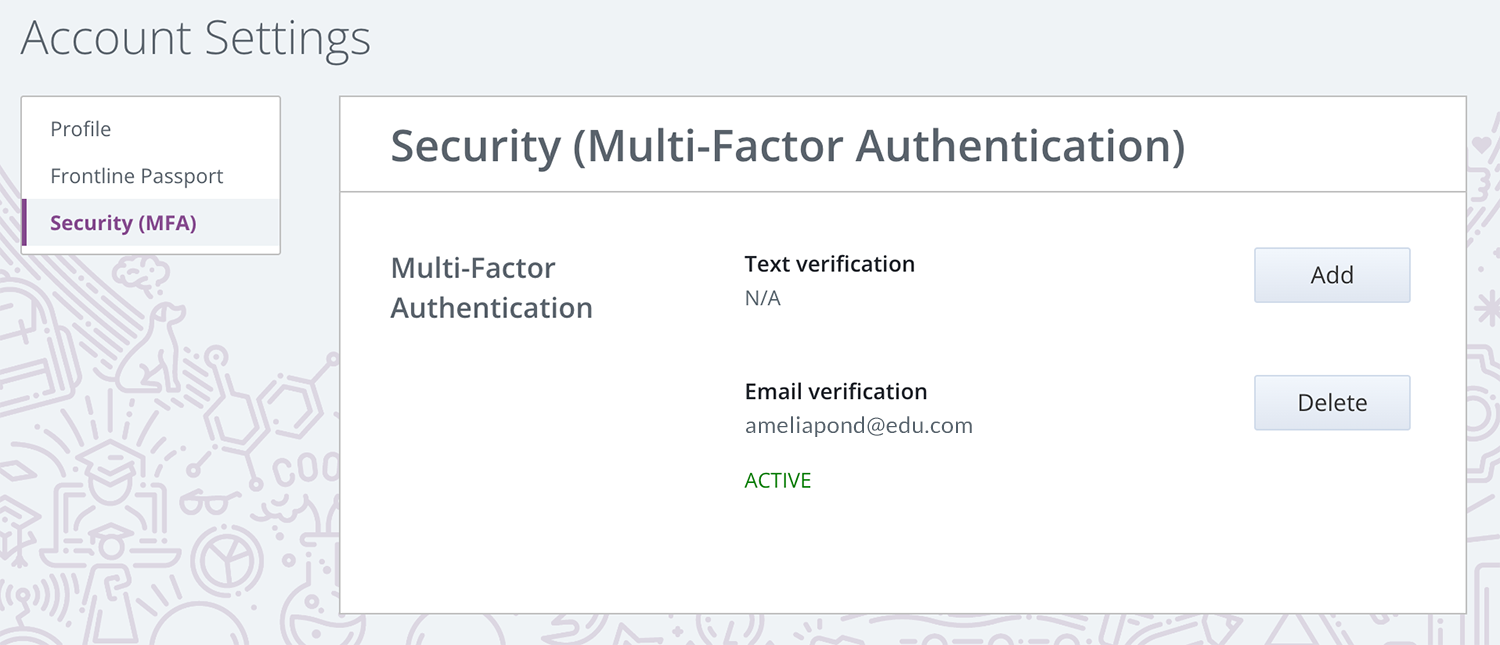 If you select "Add," the system will prompt you to enter the required details such as the email or phone number. Once entered, click Enroll.

The system will issue a verifier via the MFA option in use. Follow the prompt to complete the multi-factor authenticator and click Activate.