Districts that purchase the Frontline Insights Platform also gain access to the new Frontline Education mobile app! The initial in-app features focus on absence management functionality, but those with employee directory access and/or time and attendance can also expect future additions.
The user-friendly app now provides increased accessibility to key features such as the Leave Balance report and multiple absence-tracking tools!
Getting Started
You must first ensure you have the proper qualifications to access the app.

Your district must utilize Frontline's Insights Platform and use the Frontline absence management feature. You must also already have a single Frontline ID account.
If you wish to take a moment and learn more about upgrading to your Frontline ID account, click
here
! 
If you meet the previous expectations, access the app store and download the Frontline Education mobile app. The district provides its employees with a unique 4 digit access key that you must then enter into the app. 

Once you enter the access key, proceed to the Sign In page and enter your Frontline ID. Then, click Sign In.
Key Features
The homepage displays your scheduled absences and includes a graph with current leave balance details (if enabled) or absences taken within the past year (if enabled). Click Absences to quickly reference personalized absence details or select +Schedule Absence to request time off.

In addition, click the buttons at the base of the page to access your Menu or Inbox.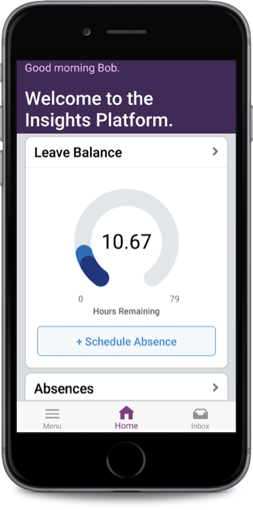 Menu/Side Navigation
The "Menu" option opens a side navigation bar where you can access current tools and settings. Click Absences to view current absence details, Home to return to the homepage, or Settings (Gear Wheel icon) to review your current district role.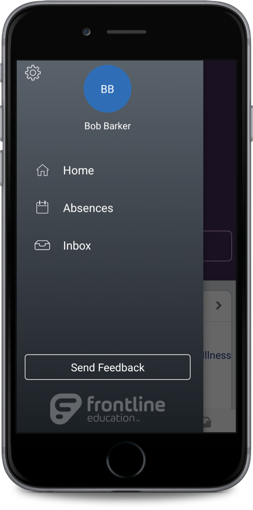 The Absence page provides an overview of available Paid Time Off (if you have leave balance details enabled) or absences this past year (if available). It also includes upcoming, past, or denied absences. Simply select the appropriate tab at the top of the page.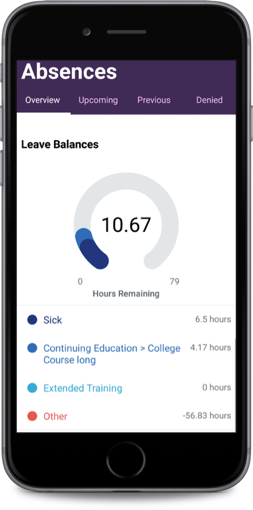 The Settings page lists important district details such as your location.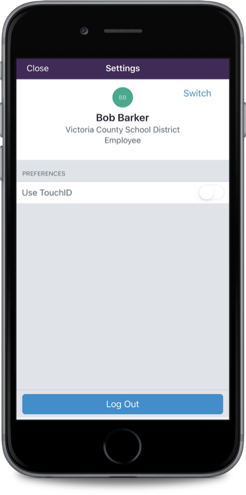 Scheduling an Absence 
As mentioned above, the homepage also includes an option to schedule an absence. Once you select +Schedule Absence, you can choose your absence timeframe, indicate whether a substitute is required, and include notes for the Admin or sub.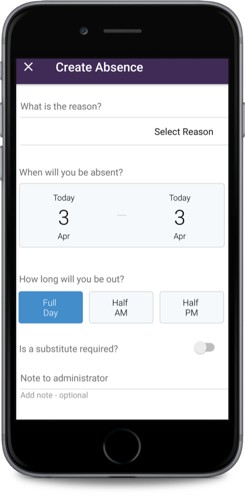 Review each tool within the app and consider how these mobile options can save both time and effort!